We've talked about job seekers and we've talked recruiters. Now let's talk small businesses.
Because for a small business, online reputation could make or break. Local companies may not have the resources to go global right away, but even they have social media. And if the first few Google search results are bad, it effects the company. It plummets sales, it turns off potential employees, makes you look incompetent to investors, and it damages your brand. So if you're a small business wanting to be on the rise—online reputation matters.
Looking Good to People
For you company, your online reputation is your brand. Studies have shown that when people are conflicted about a company or its products, they immediately go online to find out more about them. Whether you're a product or a service, people are always interested in who they're buying from.
Here's why: people like to associate themselves with companies or brands that represent them best. They want to be affiliated with its qualities and what in turn what the product or the company chooses to represent. It's why people want a Rolex when they want to showcase luxury, or eat Equal Exchange Chocolate when they want to show that they support fair trade.
Job seekers are no different. The first thing anyone does when they get a call for interview is Google the company. Look through the website, check out their online presence. Naturally, if they find the business has an unfavorable reputation, they'll want to stay away.
Building an online reputation is also a brilliant way to market yourself. Infoteam collected some eye opening stats that highlights the importance of a good web presence.
Abercrombie and Fitch Falls
Let's not forget that this is the time of social sharing. People go to company Facebook pages or platforms like Yelp to share any good or bad experience they've had with the brand. So it's not important for a small business to simply build a good online reputation. It is also important for them to manage it.
Probably the best example of an online reputation gone wrong is Abercrombie and Fitch. For decades, the company was the very epitome of cool. But when CEO Mike Jeffries comments about not catering to "uncool" or "fat" kids, and wanting to destroy inventory rather than donating to the homeless, the online backlash was instant. People didn't want to buy from a body-shaming, discriminatory brand. On social media, a campaign began where people started donating their old Abercrombie and Fitch clothes to the homeless to spite Jeffries. And soon, the sales started to look a lot this this…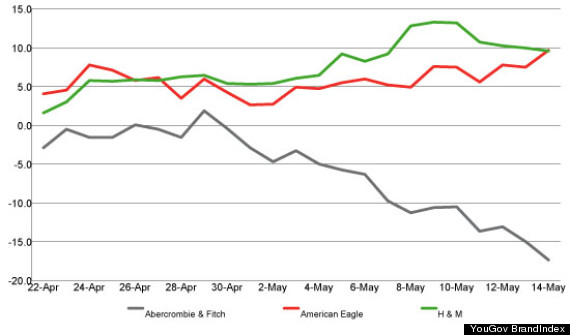 Didn't help that a lot of employees filed complains about the odd things they were made to do as well. Horror stories flooded the internet and spread like wildfire. The company lost its human resource appeal and its customers.
Digging into Online Reputation Management
So what is it that you can do to build and properly manage a good online reputation? First, take a look at this infographic by Interel Group.
Make a cool website. Every company, no matter the size needs a website. Think of it as your publicist. Keep it interactive and approachable. Make your first impression count.
Run a blog. A blog is a great way to keep people informed and updated about your company. It is not only a great way to show off, it also attracts a lot of traffic.
Be a social media activist. Update your page regularly and keep your visitors interested. Social pages have a greater SEO power, so use it to your advantage. Whether you're going to interact with them or not is your choice, but do so intelligently.
In all fairness, very company, no matter what the size needs online reputation management. Abercrombie and Fitch is proof enough for that. But a small business has a lot more to gain from it. So if you haven't thought about building a great online brand for yourself, better get to it quick.