Black Friday sale is the most anticipated sale for shoppers. It is that time of the year when everything is up for grabs at amazing deals and discounts. Shoppers are excited to take home a massive shopping haul at cheap rates.
The stores and malls witness the biggest crowds during Black Friday sales. Sometimes things can get a bit wild with crowds becoming rowdy. Every brand and businesses make the most of Black Friday sales and come up with some of the best discounts for their customers; so does Xnspy, your favorite monitoring app.
If you, too, plan to go out and save up in hundreds of dollars during shopping with your family, Xnspy can help you keeping track of your children's movements. You might split up in groups to shop on your favorite stores. With Xnspy's 40% discount on all subscriptions, you can easily monitor where your kids are heading and if they get lost in the sale frenzy, you could come to their rescue immediately. You and your kids could go to shops of your liking without worrying about losing contact.
If you had been meaning to get Xnspy till now but hadn't yet, now is the time! Just follow this simple procedure mentioned below:
First of all, go to Xnspy's official website xnspy.com.
Here is a step-by-step process to redeem the Black Friday coupon:
After going to the official website, select any package from Basic or Premium edition to your liking.
Click on the Buy now tab.
While checking out, you would see the option of the Discount Code just below your subscription plan.
You don't have to manually apply the code; the discount codes are applied automatically to your purchase.
Click on the Checkout button.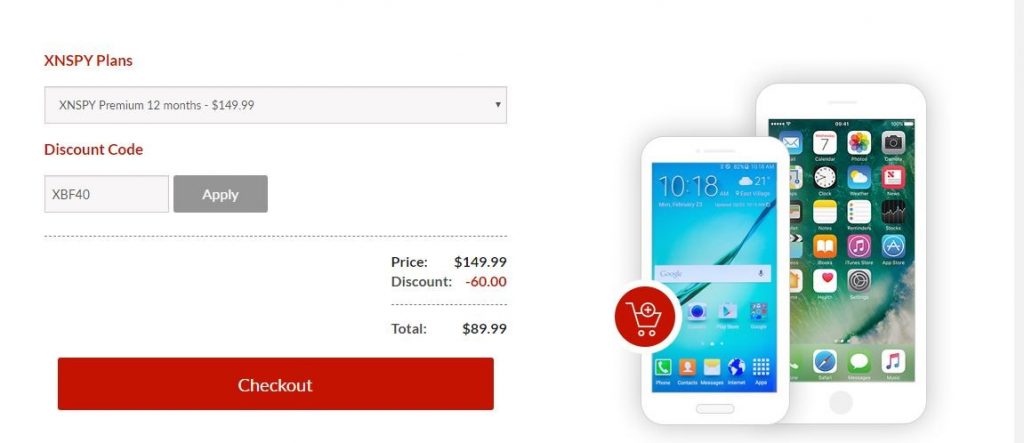 Using Xnspy – How to get started?
Using Xnspy is simply. Here is how you can begin using the app:
After subscribing to the app, you are going to get an email with an activation code, download link, and login details of your Xnspy web account.
Use the download link to download the app on your loved one's phone.
Install the Xnspy app after completion of the download process.
For an iOS device, you would only need the iCloud credentials of the phone user. The app would then sync with the cloud to transmit data to your web account.
Using the login details, you can sign-in to your Xnspy web account and begin using Xnspy's excellent variety of monitoring features.