Black Friday is here! It that time of the year to avail some of the best discount deals of the year. Xnspy is here with its 40% Mega Discount Deal. All you need to do is use the discount code and save money!
With Black Friday upon us and Christmas and New Year approaching in a month, all the stores will have great sales and insane discounts. Your partner or children could be spending money carelessly because of those discounts.
Black Friday is the biggest sale time of the year and crowds get out of hand sometimes in malls and stores. You would want to make sure that your loved ones do not get caught up in the frenzy of Black Friday shoppers. Xnspy can help you with keeping track of your children's online presence. Xnspy is offering a 40% discount on all subscriptions! If you have been waiting to use Xnspy till now, the 40% off deal is up for grabs.
Here is what you need to avail the discount:
You can only avail their discount coupon on their website. There could be scams out there too and offering you Xnspy's discount coupon. Do NOT buy from them. It is a hoax. Here is how you can redeem the Black Friday coupon:
Visit Xnspy official website xnspy.com.
Choose any package from Basic or Premium and click on the "Buy Now" tab.
Upon checking out, you will come across the "Discount Code" option just below the plan of your choice.
You will be required to enter the discount code in the box below the Discount Code. Enter
XBF40 and press the "Apply" button.
You can enjoy your selected package at discounted rates by 40%.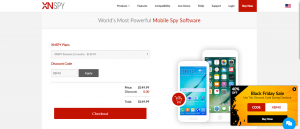 Click on the "Checkout" tab to complete the process.
About Xnspy:
Xnspy is an all-in-one cell phone monitoring app that lets you monitor both the online and offline activities of your child. Xnspy is also popularly used by employers to keep track of their employees and to make sure that they are not wasting work hours or involved in corporate espionage. The idea is to monitor the smartphone activities along with reducing the risks.
It is a safe and user-friendly app that lets you monitor the target phone remotely while offering you an amazing mix of basic and advanced features. Not only that, it gives you remote control of the device as well. You need to physically access the Android phone before installing the app as for iPhones, you just need the iCloud credentials and you are good to go.
Getting Started:
Here is a brief step-by-step guide to walk you through the process of getting started:
You will receive an email containing a download link and login details of your Xnspy web account.
Use the link to download the app on your child's Android or iOS device.
Install the app once the download is complete.
With the help of your login details, log on to your Xnspy web account and begin using the app's amazing range of monitoring features.