How to spy on Android without having the phone?
Spying on someone is not a healthy activity but sometimes you don't have a choice. A parent might be worried about falling grades of their teen at school or maybe their teenager is going on a road trip with friends and they want to be sure they are safe. Just like parents, an employer might feel his employees are leaking company information to competitors or they waste the work hours chitchatting and escaping work? In all such cases, you would wish you could spy on their Android device without having their phone. Fortunately, you can spy on an Android even if you don't have access to the phone every single day.
When people wish to spy on someone, they are usually looking for the following information:
Their call logs to learn about their incoming and outgoing calls.

Read their text messages; both sent and received.

Know their current location and view their location history to see where they hang out.

Check their emails

View their web browsing history to find out what they do on the internet.
All of this and much more is possible if you have Xnspy installed on the Android you want to spy on. Most people hesitate to install a spying app because of certain concerns.
Is it safe to use a spying software? Yes, it is totally safe to use a spying software. Xnspy does not change or damage the data that's already on the phone.
Will the Android owner know there is a spying app installed on their phone? No, not really because Xnspy once installed works in covert mode. They will never know their phone has Xnspy.
Will I need physical access to the phone to spy on them? No, once Xnspy is installed on their phone, you won't need physical access to the phone for spying. You will be monitoring them remotely.
Xnspy: The most reliable and efficient monitoring tool
If you want to spy on Android, you should try Xnspy. It is a package of basic and advanced monitoring features that fulfil the spying needs of anyone. The best thing is it is compatible with all Android operating systems. If you want to spy on Android Oreo, it is going to work on it too. With this app, you can successfully gain all the crucial information you need and clear all your doubts.
How to spy on Android without the phone?
You will need physical access to the Android device for 10 minutes before you can spy on Android. Why? To install Xnspy on their device. It is pretty easy, you will need the download link to the app that was emailed to you at the time of subscribing. Once the app is installed and running, you don't need the target Android phone anymore.
Follow these steps to start spying on the Android by eliminating the need to physically access it:
View the phone's data remotely
Now, you can proceed to the data on the target Android through the Xnspy dashboard. There will a menu full of tabs on your left hand side to access whatever you want from the target device whether it is text messages, call logs, location etc.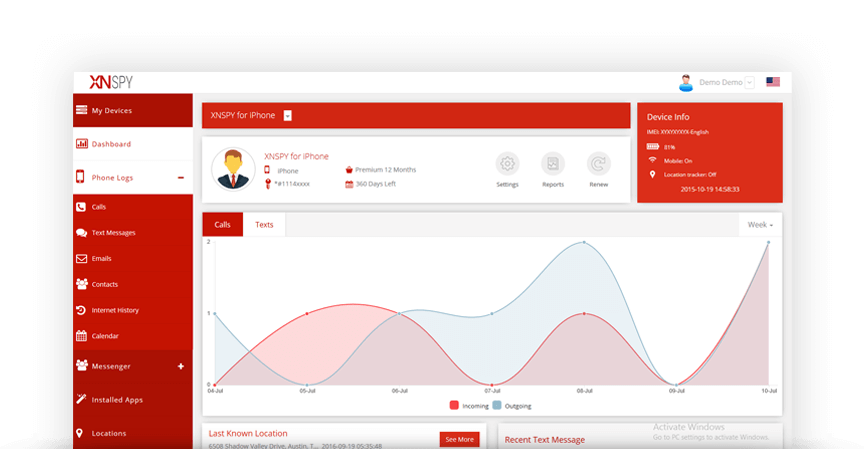 Note: After installing Xnspy, wait for 24 to 48 hours before logging in. Xnspy needs some time to transfer data from the target Android to the user's web account.
With Xnspy, you will be able to spy on the phone easily without gaining physical access to it again and again. You can do more than just spying on the phone calls and text messages. Here is what Xnspy offer:
Intercept live phone calls

Record the surrounding of the phone by sending a remote command

Access instant messenger chats and multimedia

Track GPS location and use geofencing

Read emails and monitor online activities

View photos, videos and calendar entries

Remotely control the Android device

Get alerts on specific contacts, locations, words and SIM card change
What are you waiting for? If you are interested in spying on Android, just start today with Xnspy.