Did you guys know XNSPY has a NoJailbreak Edition that you can use to monitor iPhones and iPads? Yes, we want the iOS users to avail the opportunity of monitoring someone's activity without voiding the warranty of target person's iPhone. Jailbreaking an iPhone is never recommended. It not just voids the warranty of the phone but also removes the security protections built by Apple on its iOS. So, we have made your life easier by providing you the opportunity to spy on an iPhone without Jailbreak with XNPSY's NoJailbreak Edition. Here we are, letting you know how you can use XNSPY, the No Jailbreak iPhone spyware.
In case you missed it, we did a tutorial on how to…
…in our previous blogs. If you're looking to install those versions of XNSPY instead, click on the relevant links given above and it'll take you straight to the guide you need.
What is XNSPY NoJailbreak Edition?
Onto installing XNSPY for iPhone NoJailbreak Edition. First off, let me explain what this version offers. To use the regular iPhone spy app, your target device needs to be Jailbroken. The XNSPY NoJailbreak edition eliminates that requirement, which means you can carry out your monitoring without having to Jailbreak your iPhone or iPad. Don't worry, there is nothing technical involved here and you don't need a third party app for help.
Of course, this means that some of the features offered by XNSPY will be different for both versions. To make things simpler, give this iPhone feature comparison between the Jailbreak and NoJailbreak editions a good read through.
So, to spy on an iPhone without Jailbreak, XNSPY'S NoJailbreak Edition uses the iCloud backup to make monitoring possible. Technically, you are not really installing the XNSPY app on the target iPhone, you are just configuring the iCloud backup and pairing the iPhone with Xnspy to actually start monitoring. So, you don't have to download or install anything on the target iPhone, not even this iPhone spy no jailbreak Edition of XNSPY. However, the only thing you need to do is subscribe to the XNSPY for iPhone NoJailbreak Edition. You may have to follow a few extra steps here but trust us when we say they are well worth it.
Without any further ado, here is a complete step by step instruction on how you can use XNSPY to spy on an iPhone without Jailbreaking it. Before you get started, make sure you have the target iPhone and your XNSPY login credentials with you. Grab the target iPhone and follow the steps below:
Step 1: Go to Phone Settings
Tap on the 'Settings' icon on your iPhone's home screen.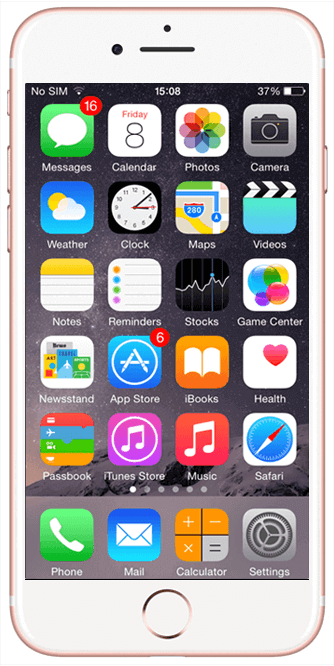 Step 2: Go to iCloud
From the list, tap on 'iCloud'.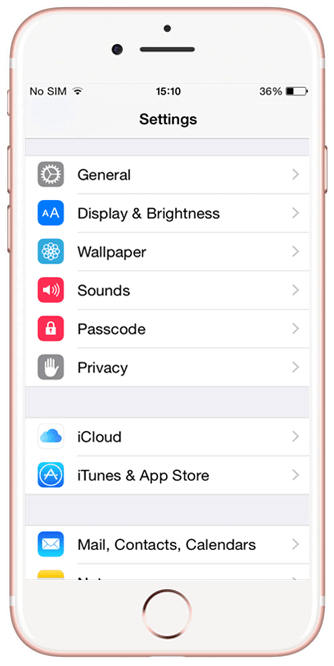 Step 3: Enter Apple ID
You will be asked to enter the Apple ID and password in the required fields. Enter the information and then tap 'Sign In'.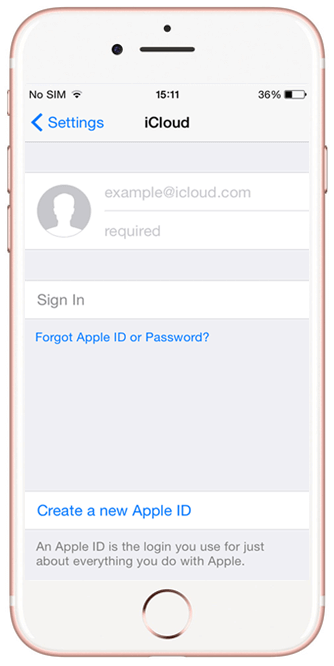 Step 4: Wait for Verification
Your phone will now verify the iCloud credentials. This will take a few minutes.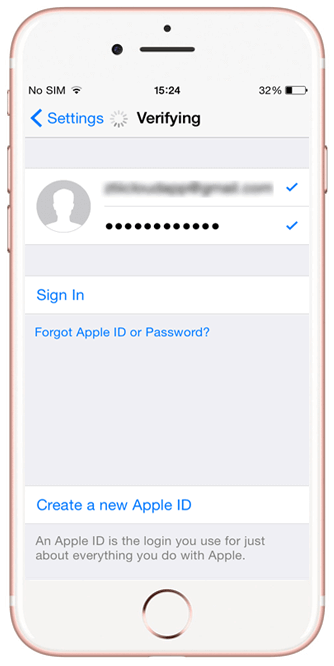 Step 5: Wait for Account Save
Your device will now save your iCloud account details. Wait for the process to complete.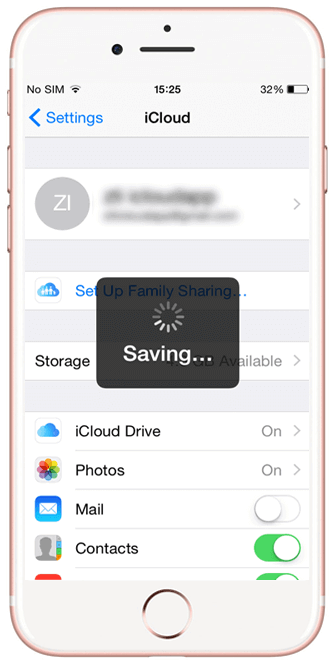 Step 6: Toggle On Features
On the iCloud menu, make sure all the features have been toggled 'On' except for 'Keychain'.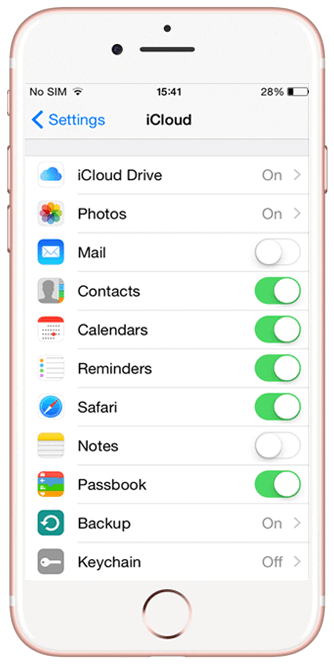 Step 7: Backup
From the menu, tap on 'Backup' and make sure it is toggled on.
You have now successfully set up your iCloud backup.
How to Pair the Apple account with XNSPY's web account?
Wait, it's not over yet, you have to do one more thing to start monitoring the iPhone without Jailbreaking it. It's called 'Pairing the Apple ID account with XNSPY's web account'. Since no installation is required, XNSPY will need access to the target device's Apple credentials to fetch the data stored on the iCloud. Don't worry, it's just easy as above. Here is how it is done:
Step 1: Log into your XNSPY web account
Visit https://cp.xnspy.com/ and enter the XNSPY credentials that have been emailed to you to access the remote Dashboard.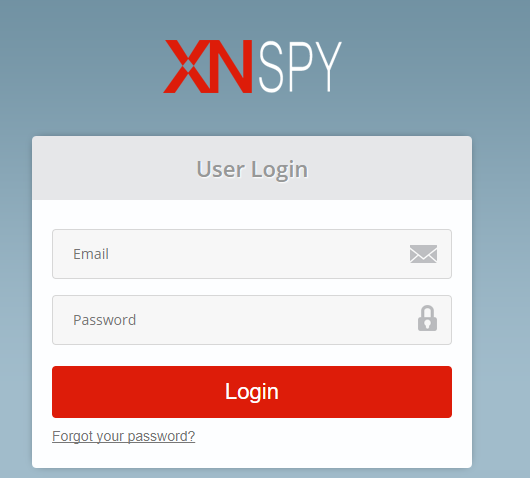 Step 2: Choose XNSPY for iPhone
The Dashboard will automatically show you active devices monitored by XNSPY. Since you are about to monitor an iPhone, 'XNSPY for iPhone' will automatically appear on the screen.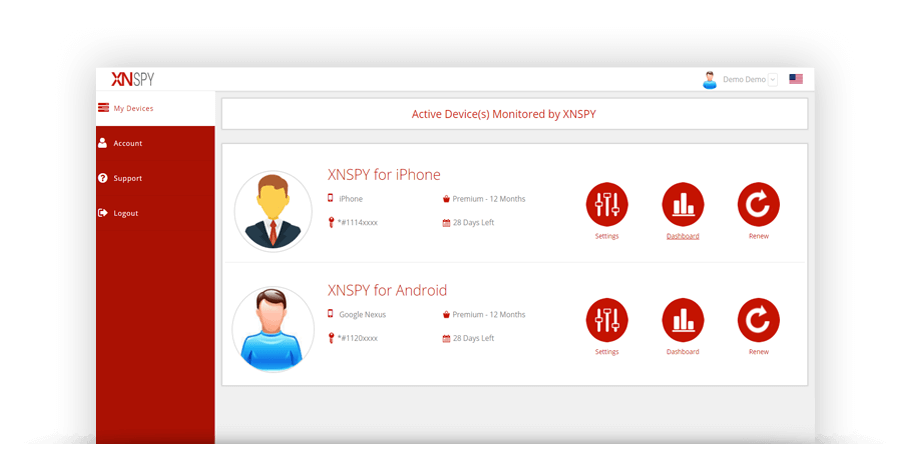 Step 3: Enter your Apple ID credentials
Now, you will be asked to enter the Apple ID credentials of the target iPhone so that it could be paired with your XNSPY web account. So go ahead, enter the ID and password and let XNSPY do the pairing.
You are all set now!
Remember, you have to wait for 24 to 48 hours to monitor the target iPhone. It is necessary because XNSPY needs some time to transfer all the data stored on the iCloud to its servers and then to the XNSPY web account so that you can access it from the remote Dashboard. Once 48 hours have passed, you are free to log into the XNSPY web account and start monitoring the iPhone.
This is it! You can now successfully monitor an iPhone without Jailbreaking it. XNSPY works in complete discreet mode and smartly lets you monitor whatever there is on the target iPhone.
If you've got any more questions regarding the configuration or spying on an iPhone without Jailbreak, please contact our Customer Support. They will answer any queries you have and solve unusual issues that have not been discussed in this blog. They are available 24/7, so you can contact them at your convenience.
See Also : Top 10 iPhone Spy Apps
We hope you can have a seamless experience with XNSPY using this guide. Feel free to write to us if you've got any ambiguities related to spying on an iPhone without Jailbreak and we'll try bringing them up on the blog as soon as we can!