Snapchat is a multimedia application that ranks first among instant messaging apps as smartphone app market has grown significantly in India. Snapchat's popularity has skyrocketed since its advent in 2011. As a result, this app is particularly popular among the younger generations. With 332 million daily active users and 4 billion photos exchanged every day, the company estimates that 75 percent of its users are between the ages of 13 and 34.
However, this highlights the critical necessity for a specific parental monitoring tool in the app. In addition, Snapchat has added the notion of parental controls in the app named "Family Center."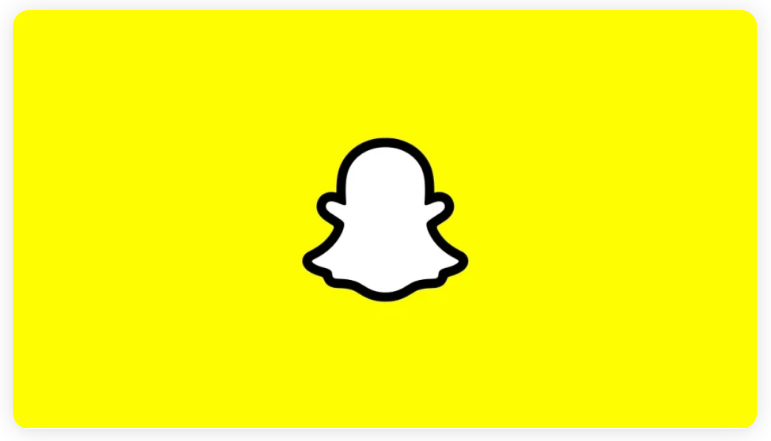 How Will Snapchat's "Family Center" Feature Help Parents?
This feature will allow parents to accomplish a variety of things. For instance, parents will be able to discover their teen's acquaintances by accessing their friend list. This is a unique selling point because Snapchat does not allow you to see other people's contacts.
Second, parents will be able to see who their child has talked to in the previous seven days. They will, however, be unable to open or read the chats.
Third, if required, parents will be able to prevent their teenagers from reporting harassment and abuse. However, children must give their consent for any of the foregoing to occur. Parents must first invite their children to the "Family Center" to see their activities on the platform. The invitation could be accepted or declined by the recipient.
Moreover, during an interview, a Snapchat spokesperson said, "Our overall goal is to help educate and empower young people to make the right choices to enhance their online safety and to help parents be partners with their kids in navigating the digital world." Further, he said, "When we build new products or features, we try to do it in a way that reflects natural human behaviors and relationships—and the parental tools we are developing are meant to give parents better insights to help protect their kids in ways that don't compromise their privacy or data security, are legally compliant, and are offered at no charge to families within Snapchat."
The Functions of the "Family Center" for Parents and their Children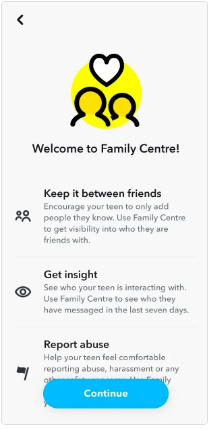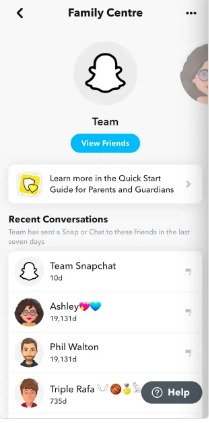 The screenshots include some learning prompts that provide parents and their children with an overview of the "Family Center's" features. The monitoring person can help the teen report instances of abuse they have encountered on the site, as indicated by the prompt. The monitoring adult will also be able to view when their child reports instances of abuse they have witnessed on the app.
The supervising adult will also be able to access the user's friend list. Similar to this, the Family Center would let parents see who has messaged their children in the last week. It is important to keep in mind, though, that this feature is only restricted to the identities of the users who are in contact with the children, not the details of their communications.
But given that it indicates the teen's privacy is being respected, this is actually a very positive thing. In connection with that, Family Center requires teen user consent before an adult may access the service. In this situation, the parent or legal guardian would have to request the teen, who would then have the option of accepting or rejecting it. A shared agreement or permission for the sharing of information with parents is implied by the former.
A Single Solution For Monitoring All Apps On a Phone
Other social media sites and instant messaging programs, including YouTube, Instagram, and TikTok, do, however, already have their parental control functions. Nevertheless, it is difficult for parents to monitor every app that is installed on their children's phones.
To enable parents constantly beware of what their children are doing and sharing on Snapchat and other instant messaging applications, a solution is required. And a parental control app the same as Xnspy might perform this function better than anything else. Learn how to monitor Snapchat as a parent in the following section.
Snapchat Parental Control App
Xnspy is a parental control app that allows parents to track their teen's whereabouts and social media activities. Although there are some genuine reasons why Snapchat might not be an ideal place for your teen. If they are using it anyway, it is crucial for parents to control whatever they are doing on Snapchat.
As mentioned above, most Snapchat users are teenagers and youngsters, who can be easily tricked by hackers and cybercriminals. This might be the reason why you should be monitoring your child's Snapchat. However, Xnspy has made it easy for parents to monitor their kids' Snapchat as well as other instant messaging app activities.
Xnspy has a range of useful and interesting monitoring features that are easily accessible and allow you to quickly learn how to monitor Snapchat as a parent. Although the Snapchat Family Center is quite basic and doesn't allow you to read the messages, it also only claims to save a seven-day record. Xnspy offers much better than that.
With the Xnspy Instant Messaging feature, you can easily record with whom they have been talking and for how long. Moreover, you can find out the context of what they have been chit-chatting about along with the date and time stamps. Another useful feature of Xnspy that can help to polish your parental control skills is the Keylogging feature. You can find out if your kid has used unethical words or has talked to inappropriately with someone.
It is compulsory for parents to protect their children from cyberbullying. And the ideal app to assist you to secure your children's safety is Xnspy. Always beware of who your children are speaking to, who is attempting to contact them, and anybody attempting to take advantage of their immaturity.
However, except for the aforementioned features, Xnspy also has many other monitoring features that could help you to ensure the safety of your teenager, including viewing text messages and call logs, recording calls, and surroundings, viewing photos and videos, and remote access, and 24/7 alerts.
Remember that "Family Center" is still under development, so the finished feature could not be exactly what is anticipated. But even if there are any modifications, the functionality will probably still mostly appear the same. Waiting for the "Family Center" feature to be released officially won't be a good decision. To ensure the safety of your kid, take a step soon and adopt a proactive approach.