How to Spy on iPhone Without Having the Phone?
It's the question of the decade: "How to spy on someone's iPhone remotely?" Well, it's been a tough call for most people who have been stuck with a broken relationship with their child or partner. For them, knowing the unknown is the only way out of that labyrinth of questions and assumptions that are tearing their lives apart. "Is my son on drugs?" "Is something troubling my wife?" "Am I being cheated upon?" These questions could create a serious imbalance in one's life. Trying to get the answers without any confrontation seems like the best thing to do.
Spy apps have been there since we had Symbian mobile devices. Over these years, they have improved to be better and more sophisticated. In fact, we live in a time where businesses are monetizing on what the users are expecting to maximize the gains. How to spy on iPhone without touching it is another one of the many things that spy app users have been wanting. And it seems like that their prayers have been answered finally. It's no longer required to have access to someone's iPhone and install a spyware.
It is totally possible to spy on cell phone without having the phone. Many of us typically have believed that spying is only possible by jailbreaking an iPhone through Cydia. Jailbreaking means voiding the warranty of the device. Plus, you cannot really take the risk when it's someone else's iPhone.
It's time to clear your head and get rid of all these misconceptions. I am here to tell you how to spy on an iPhone without accessing it using XNSPY! It's one of those apps that can be easily used for this purpose. And no, you don't have to install it on the iPhone you are planning to spy on.
The steps below explain how to spy on someone's iPhone remotely:
Step 4:
Navigate to the dashboard menu
Simply navigate through the dashboard menu to start spying on the iPhone. There is a separate tab for spying on text messages, call logs, messenger chats (you can read instant messenger conversations from Facebook, WhatsApp, Line, Viber, Kik and more), location tracking, photos, videos and a lot more. It is like controlling the iPhone from a remote location without having to physically access it. On top of that, no installation or jailbreaking is required!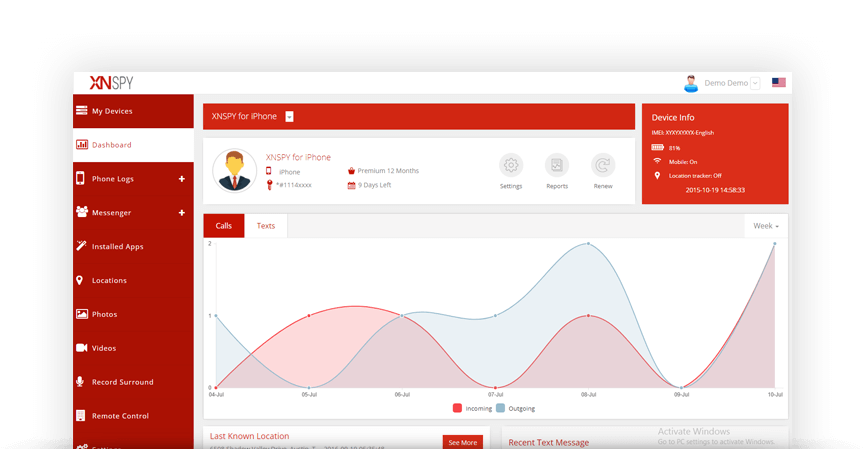 Are there are other ways to spy on iPhone without jailbreak?
There always have been ways available to spy on iPhone without touching it or downloading a spyware on it. But those methods haven't been made commercially available for their high cost and the risks associated with a common person being able to spy on anyone's phone. The U.S law enforcement has been using different spying tools funded by the Homeland Security. We will discuss the most prominent one:
Stingray devices
The U.S. government has been using stingray devices to intercept wireless devices, particularly cellular phones. A stingray is an IMSI-catcher. When active, a stingray could mimic the signals of a wireless carrier cell tower which allow nearby cellular devices to connect to it. During this process, stingray devices can conduct tracking and locating operations.
How to spy on iPhone without having access to the phone for free
Honestly, there's no such software available that can let you spy on iPhone without having the phone and that too for free. Usually, such spy apps require a lot of time and work to make. So don't expect a spyware for iPhone to be free. However, you can always choose to pick the cheapest spyware and Xnspy is hands down the most affordable available to date. XNSPY is also ranked one of the best iphone spying software.