How to Remotely Monitor All the Calls Received On Target Phone?
Are you curious to know whom your child is talking to on the phone? Do you think they may be talking to a particular friend that is not good influence? It is not always easy to access someone's phone and check their call logs. You may have successfully done that once or twice but what if you need to check their phone regularly? Don't worry, there is a way you can remotely monitor the calls received on your child's phone. It is possible if you have Xnspy installed on their phone.
Here, we have explained the process in steps:
Step 1:

Subscribe and Install Xnspy on the Target Phone

Subscribe to Xnspy by picking the version that is compatible with your phone. If you want to monitor an Android device, pick Xnspy for Android but if you want to monitor an iPhone, pick Xnspy for iPhone. Once you are done with that you will need access to the target phone to install Xnspy. Xnspy does its work in stealth mode so the owner of the target device will never know if there is an app working on their phone. Fortunately, you don't have to install Xnspy on iPhone, only the iCloud backup configuration is required. Before you start monitoring the phone, you must wait for 24 to 48 hours to let the app gather all the data from the phone.
Step 5:

Monitor the Received Calls

All the incoming calls on the display are actually the calls received by the phone. Extra details like the caller's name and number are also mentioned. You can also check the time and date stamps along with the duration of the call.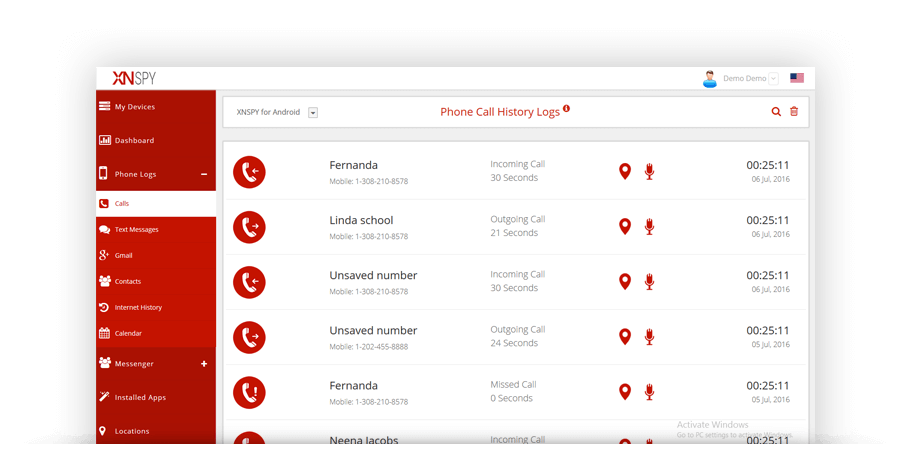 In case you want to check if any calls are received from a particular number, then it's possible too. On the same screen, click on the search icon display at your top right. You can either specify the phone number or the name to search the call history of a particular number. Click 'Search' and it will open up the results you were looking for.
Xnspy will give you all the information you need about the calls received by the target phone. On the basis of this information, you can then take the required action. For instance, if your child is talking to a stranger or a friend that's not a good influence, you can simply ask them to stop.