How to spy on WhatsApp?
With over 1.3 billion active users worldwide, WhatsApp is the world's best instant messaging app, hands down. And we love it, totally. Because we can use it to chat, call, video call or share multimedia of all kind. Its eclectic nature is what makes is an all-in-one IM app.
According to a 2014 report, an average user spends around 195 minutes on WhatsApp; that's around 30 minutes every day! During that half hour, there's a lot that we share, watch, and discuss. Well, this is exactly the reason why many of us want to spy on WhatsApp of others.
While there are many ways to spy on WhatsApp remotely, XNSPY is one way to do it. A WhatsApp monitoring app like XNSPY does it quite comfortably. You don't need to learn code, read extensive guides or try spoofing techniques because you can do all that with just a download.
You can use XnSpy to spy WhatsApp on Android and iOS devices, and this guide, we will cover both.
How to Spy On WhatsApp Chats, Photos, And Call Logs On Android
To spy WhatsApp on Android, you will need to install XNSPY on the target Android cell phone or tablet. This is a prerequisite to spy on WhatsApp. However, you only need a few minutes on your hand to do this.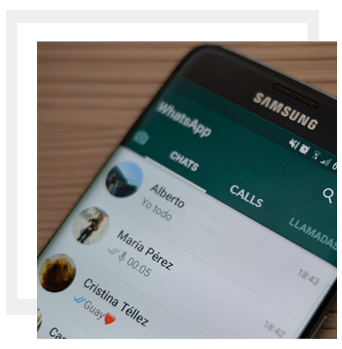 How to Spy On WhatsApp
[iOS – Jailbreak]
Spying WhatsApp on iOS devices is just like spying WhatsApp on Android; you need to install the app on the target device. However, all iOS users know that third-party apps can only be downloaded on an iOS device after jailbreaking it.
To use XNSPY Jailbreak, you first need to jailbreak the target device. If you don't have a jailbroken device, it's time to do some reading. Make sure to go through this tutorial on how you can jailbreak an iOS device.
Once you have the jailbroken iOS device with you, it's time to download xnspy onto it. Follow this link XNSPY iOS Installation to learn more about how you can install XNSPY on a jailbroken device.
Once you have the app installed, it's time to sign into your XNSPY Dashboard. You will be provided the login credentials upon subscribing to XNSPY.
On the XNSPY Dashboard, click on the "Messenger" tab to reveal a drop-down menu and choose "WhatsApp" from there. Upon clicking, a new screen will load with all WhatsApp chats with name, date, and time stamps. You can also click on a contact to reveal all the previous conversations.
How to spy on WhatsApp (iCloud)
If you don't want to jailbreak an iOS device, no problem. XNSPY has a no-jailbreak spy solution for you that doesn't require any download or installation. All you need are the iCloud credentials of the person whom you wish to monitor.
With XNSPY, iCloud version, you can spy on WhatsApp chats and photos. To learn how to use XNSPY iCloud, use this link iCloud Installation
Once you have everything set up, you can access WhatsApp chats and photos using XNSPY Dashboard.
Why spy on WhatsApp?
If you have children, WhatsApp spying could come quite handy in knowing if they are doing fine interacting with their friend or peers. The app is used to make calls, send instant messages and to share multimedia of all kinds. As a parent, it's worthwhile to be watchful of the online actions of your children who can share inappropriate photos, videos or text with their WhatsApp friends. Just alone by spying on WhatsApp, it's possible to get a complete highlight of one's life.