How to view call logs on Android phones remotely?
Wouldn't it be great if you can view call logs on an Android phone from a remote location? If you ever experienced what I am about to tell, you would know the pain. The calls that you made a short while ago can soon be lost when new calls appear in the list. In this scenario, it can become difficult to find the number you are looking for.
You won't have to face this problem anymore as long as you have Xnspy. This monitoring app lets you view the call logs on another phone from a remote location, without physically holding it. The step by step guide below explains how it is possible to view call logs and find the number you were looking for:
Step 1:

Install Xnspy on the Android Device

We'll call this Android device as the target phone. The procedure of installing Xnspy is simple and it takes 8 to 10 minutes to complete it. You must subscribe to the app and create an account. Once you purchase the app, you need to follow the download link to download the app on the target phone. Once you have successfully downloaded the app on the target phone, open the APK file and follow the instructions. After successfully installing Xnspy, wait for 24 to 48 hours before you log into the Xnspy web account for the first time.
Step 4:

Start Monitoring the Call Logs

The new screen on your right will show you the name of the contact, their phone number, sduration of the call as well as time and date stamps. From here, you will able to see live calls and also the incoming and outgoing calls. It will be a matter of minutes for you to find the number you lost from your phone.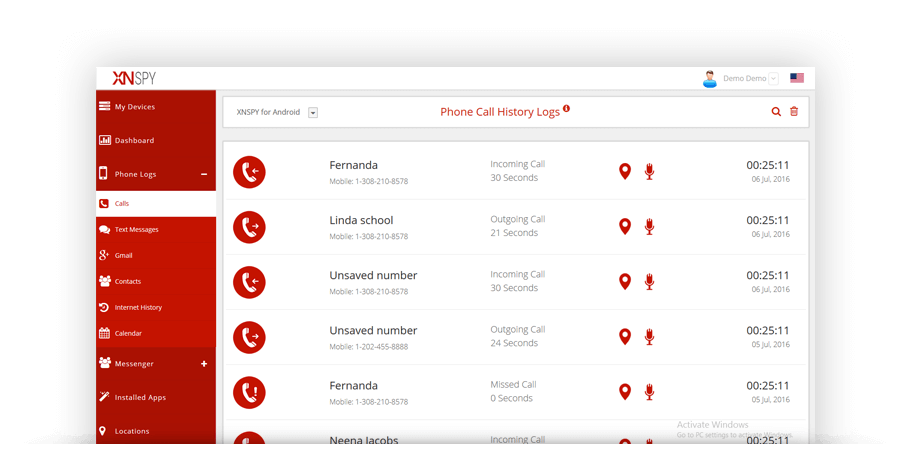 With Xnspy's call log feature, you won't miss anything. It gives access to all the information about the call-history of target phone.