How to Monitor iMessage On My Son's Phone?
Texting has become a common mean of communication. When the texts are exchanged between Apple devices, the regular SMS is converted into an iMessage (which is a proprietary messenger for iOS Devices). It uses internet for the transmission of messages. It sure is a convenient way of communicating but often, chatting becomes time-consuming. If you are a parent of a pre-teen or a teen, you might be observing they are spending excessive time on iMessage communication. If you are worried that your son is involved in an unhealthy communication or spending too much time on the phone is affecting his health, then you might be interested in monitoring his iMessages. This will give you a clear picture of who he talks to and what kind of conversation he is involved in.
But the question is how to monitor iMessage? You simply need Xnspy to do that. Don't worry, you won't have to jailbreak your son's iPhone to install and use Xnspy. You can use this monitoring app to view your son's iMessage conversation without installing it. All you have to do is to configure the iCloud backup to start monitoring the target iPhone. Once you are done with that, you just have to wait for 24 to 48 hours to start monitoring the iMessages of another device.
The steps below explain how you can you can monitor iMessages on your son' iPhone:
Step 5:

Check the Time and Date Stamps

You will see time and date stamps with each message sent and received as you open each conversation thread.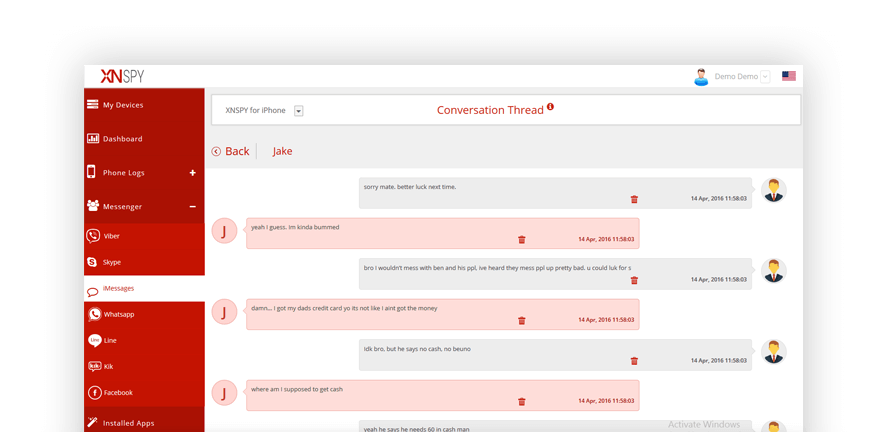 Xnspy is pretty easy to use. So, even if you are not that great with technology, you won't have to worry about using Xnspy to watch what your son is up to. Monitoring his iMessages will let you know whether or not there is something to be worried about and hence, you can take an action accordingly.