Top 10 Spying Apps for iPhone 2018
Technology has been the single decisive factor in our lives for the past couple of decades. While we have seen the number of cell phone users surge to billions, there has been an equal rise in the digital crimes and online abuse related to internet and mobile.
Our youth and children have either been a subject of cyberbullying or catfishing online. The digital dangers coupled with the new dimension of technology has led to the development of smartphone spying apps. The purpose of these apps is to defend and protect our loved ones from the rampant digital vulnerability. Businesses are harnessing them to monitor their employees and people are using them for location tracking.
We have done extensive research on four different variables of spy apps and came up with our list of top 10 iPhone spying apps.

1. XNSPY
On number one, we have Xnspy as the best spying app for iPhone. Xnspy is known for its seamless compatibility with iPhone and accuracy of its features. It offers an ideal mix of primary and advanced features on iPhone. Whether it is basic call and text message monitoring or it is advanced remote monitoring, the app checks all the right boxes of a top performing app. It's pretty simple to use. Once you have installed XNSPY, you can start monitoring the target device within 24 hours. XNSPY's support team is available 24/7 to answer your queries as and when you need them.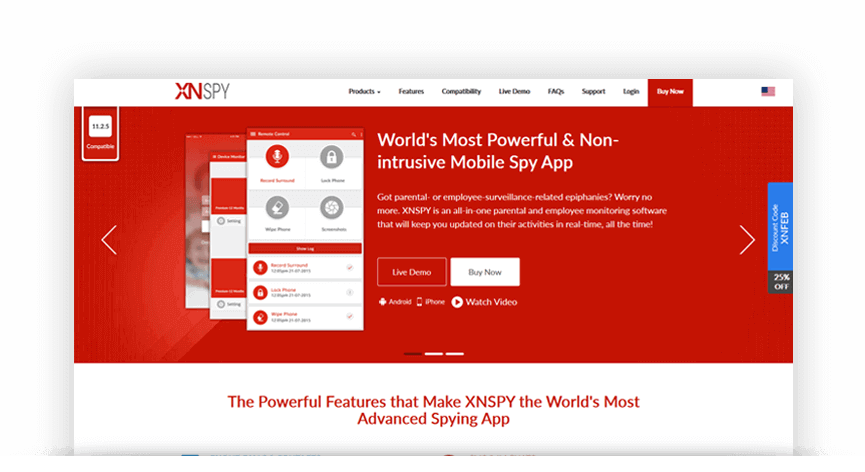 Compatibility
One of the many reasons why Xnspy is at the top of this list is its eclectic compatibility with iPhone. After the introduction of new iOS 12.0 many spying apps lost their competitiveness. This is only a few of the apps that are compatible with the new iOS 12.0 For those who are using an older version of iPhone, the app has two separate versions for Jailbreak and iCloud/No-jailbreak.
2. TrackMyFone
Second on our top 10 list is TrackMyFone. This app is just right for the parents who are looking to secure their kids online. With internet-enabled smartphones, it has become easy for the perpetrators to access their potential victims. TrackMyFone allows the parents to not only monitor children's phone activity but also control the phone remotely. The app offers more than 30 monitoring features.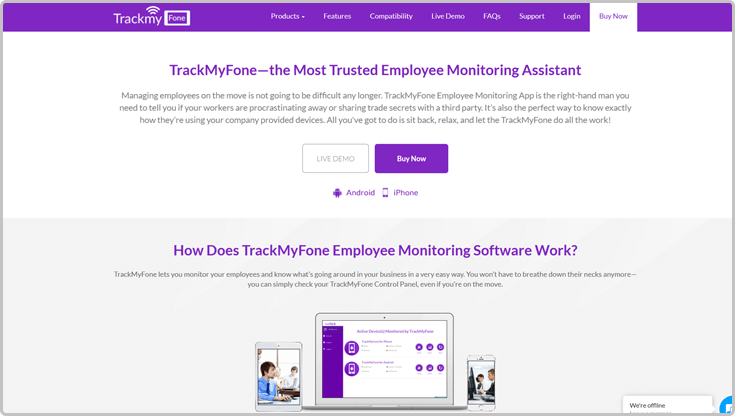 Compatibility
TrackMyFone is compatible with both iPhone and iPad devices. But the best part is that it does not require download and installation. You would only need the iCloud credentials of the device to pair it with the iPhone. The other benefit for the parents is that they do not need to jailbreak the iPhone unlike other spying apps. Above all, TrackMyFone is compatible with all iOS devices running iOS 6.0 up to the latest iOS 12.0
Price
The app is extremely low priced considering its market competitors. It offers a single package that can be subscribed for monthly, quarterly, and yearly basis. The app can be used for as low as $6.25 a month!
Pros
It does not require any physical access to download and install the app

The phone does not need to be jailbroken

It has the best feature to price correlation. You can use 30 plus features by paying as low as $6.25 a month.
Cons
Facebook messages cannot be accessed on its iPhone version

Calls are not recorded in WhatsApp

It's only best if you want to track another device and need basic monitoring features.
3. mSpy
mSpy is third on our list and it is also among the most recommended iPhone apps for the users. It is also packed with several features that enable you to control an iPhone. You can use its remote control features to keep an eye on the target phone. Another aspect that makes it among the top three is its PC and Mac OS monitoring capability.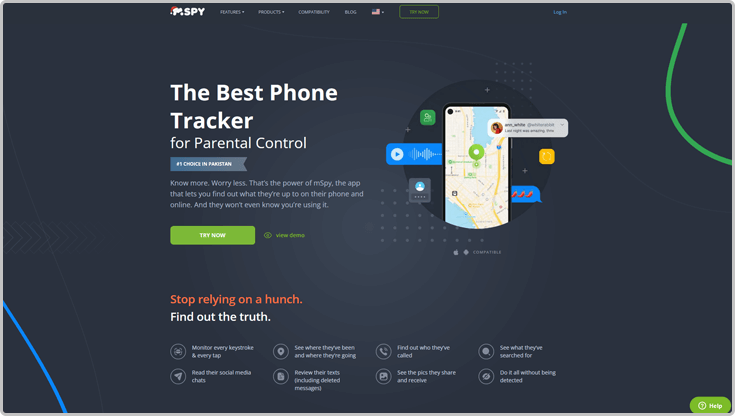 Compatibility
As far as the compatibility with the iPhone is concerned, mSpy is compatible but it would require you to jailbreak your iPhone before installing it. It supports iOS 7 up to iOS 9.1. You would need to download and install the app on their website to track an iPhone.
Price
Like Xnspy, mSpy also offers two different packages on the basis of features.
These packages have been divided into monthly, quarterly, and yearly subscriptions. It offers many features, but on the affordability side, it is much pricier. The premium package costs around $200 a year.
Pros
It offers 24/7 multi-language support

The control panel has a material design.
Cons
Requires the iPhone to be jailbroken

The app is expensive at $200 a year

The company doesn't follow its 10-day money back guarantee. If you are not happy with the app, you won't be getting your money back.
4. Spyzie
Spyzie is another reliable spying app in the market with several features under its name. Spyzie is compatible with the iPhone and now it offers compatibility with iOS 11. It can record messages and provide calls information. After synchronizing the data on iCloud, it can be accessed anywhere. Spyzie's biggest downsides come as part of its lagging performance. Being the newest on the market, it has a still a long way to go. It's better to wait than to try this app for now as even a smaller price tag isn't justifiable because of the same under-developed functionality.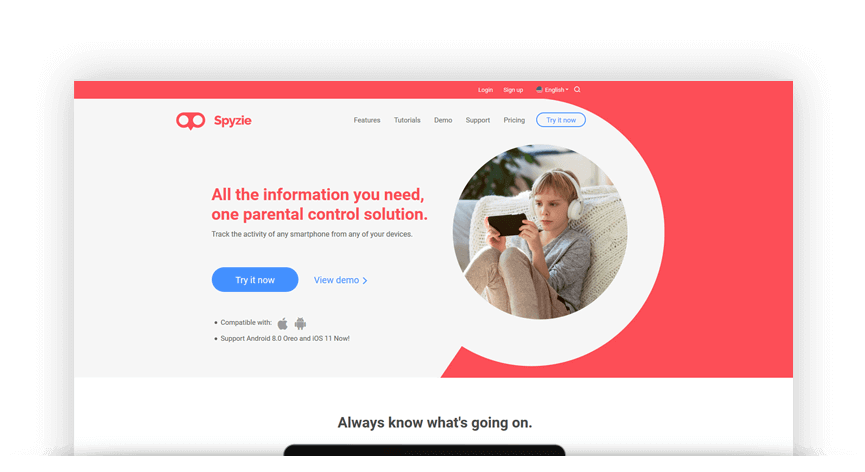 Compatibility
The app is compatible with the iPhone. But its compatibility is limited. It can be used on no jailbreak devices but it offers no support for jailbroken iPhones. Moreover, Spyzie can be used on the iOS 8 and above.
Price
This is perhaps its major attraction. Spyzie is cheaper than its competitors that offer the same features. For the moment it offers two packages:
Premium Edition: This package offers limited functionality and it is available for $89.99 a year.

Ultimate Edition: This package comes with full functionality and you can buy it for $99.99 per year.
Pros
It can be used without installing the software

Location tracking features are accurate

It is affordable
Cons
It lacks advanced features on the iPhone.

It cannot be installed on jailbreak iPhone devices

It won't let you block websites or keywords.
5. Highster Mobile
Highster offers all the major spying features but lacks the compatibility with the iPhone. Though it offers incredible features for Android phones, it misses the same on iPhone. Still, the app is among the reputable apps online. The app is also accessible to the user through Windows and other platforms.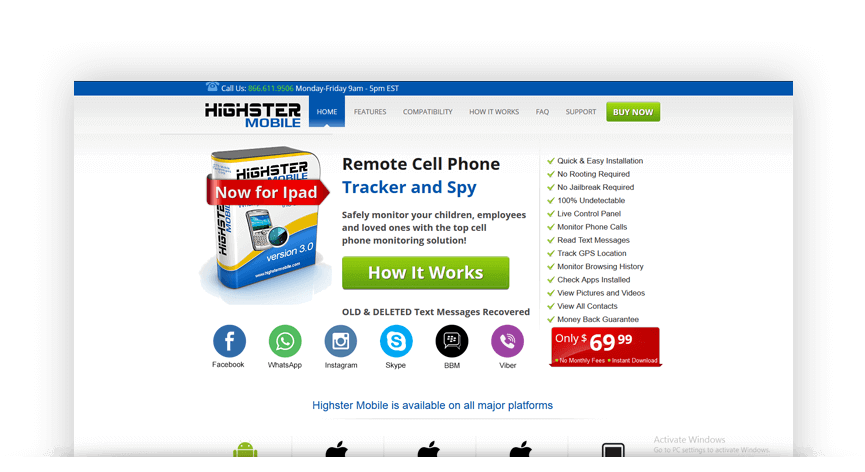 Compatibility
The app is compatible with all iOS versions. But it does not support jailbreak phones. You have to install the app through their OTA (over-the-air) method to download the app. Highster also supports iOS 11.
Price
Price is higher than its competitors. The app offers a single package and that costs $80. The package is valid for a year duration. You can also add an added warranty to your product for $30 extra. Which is not needed in many cases.
Pros
The interface is responsive and user-friendly.

The app also offers a 30-day money back guarantee.
Cons
The app does not have a call recording feature.

The installation and operations are complicated.

There is only one package for iPhone monitoring.

They do not have online chat support. If you need immediate assistance, you will be on your own.
6. SpyEra
This is a mid-range mobile spying app that has all the basic features from tracking instant messengers to call logs. It has a few advanced features as well like listening to the recordings of incoming and outgoing calls. Another distinct feature of this app is that if the target person changes the SIM card, you are notified.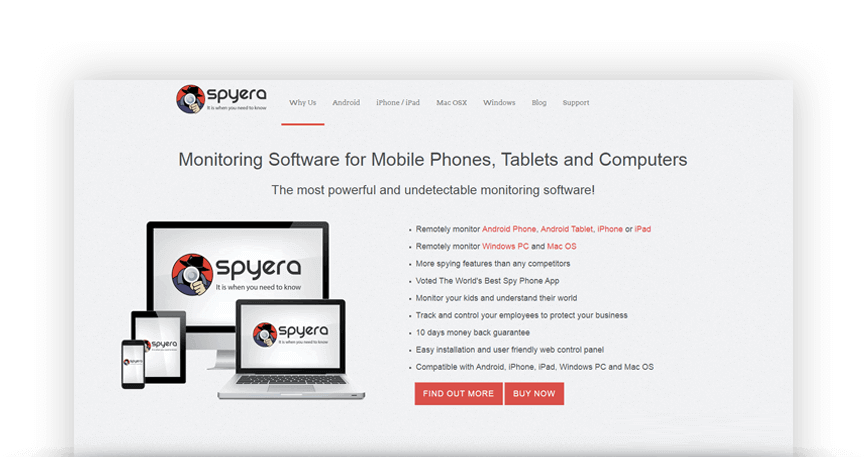 Compatibility
SpyEra lacks the compatibility for iOS 11. The spying app is available only for the iPhones having iOS 10.2. Another requirement for the compatibility is that you would need to jailbreak your device before installing the app.
Price
SpyEra is very expensive. Its three-month package costs equal to the monthly package of a top spying app. The app offers only one package for 3 months, 6 months and a year duration while its yearly package can go as high as $389!
Pros
SpyEra app offers all the basic as well as advanced features

You can even spy on camera using this spyware
Cons
The app is very expensive. Even the yearly package of Xnspy costs less than its three-months package

The app is not compatible with the iOS 11, hence not supporting any latest iPhone models

You would need to jailbreak your phone to install the SpyEra app.
7. SpyBubble
Spy bubble is among a few apps that can be used on the iPhone but it offers only basic features. If you are looking for an app that can perform basic functions like monitoring calls and messages comprehensively, then SpyBubble is right for you. The app is offered in a single package with primary functions.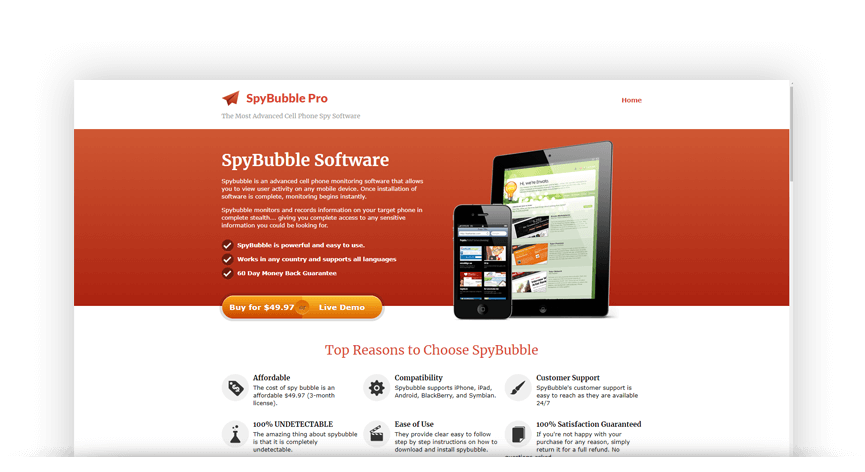 Compatibility
The app is compatible with the iOS 7 up to the latest iOS 11. But it does not support any Jailbreak iPhone device. The other good thing about the app is that you would not need installation but only the iCloud credentials of the target person.
Price
The app has similar packages to the mSpy. It offers two packages:
These packages are available for monthly, quarterly, and yearly basis.
Pros
The app can block unwanted apps on the target iPhone.

The app is affordable and you can start the trial version for $1.
Cons
Like any other average apps, it also falls short in the compatibility category.

The app is not invisible. Instead, it shows an icon on the phone.
8. GuestSpy
What if the person you want to monitor has an old iPhone model? While many people change their handsets, there are still a few who stick to their old handsets. GuestSpy is an app designed to monitor the older versions of iPhone. If you wish to monitor any of iPhone 2G/3G/3GS/4/4S/5/5S/5C models, then GuestSpy is an app suitable right for you.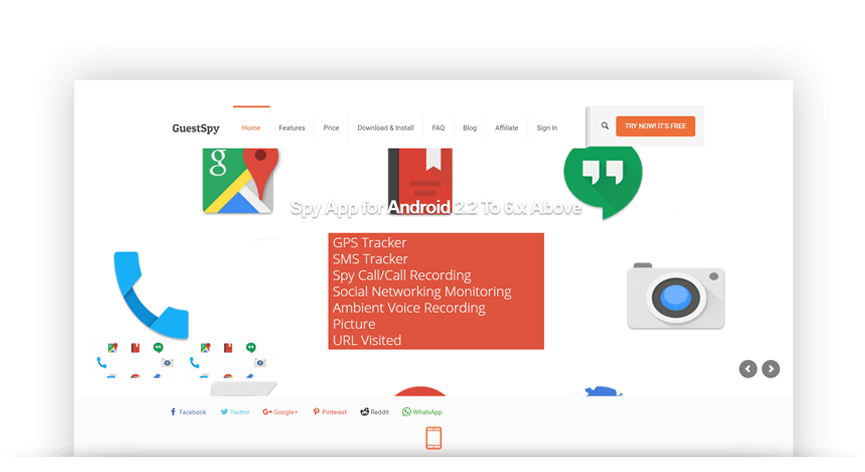 Compatibility
The compatibility of the app is limited and this is the major reason why GuestSpy is on number 8th on this list. GuestSpy does not support any iPhone device later than the iPhone 5C. And if you want to install the app, you have to jailbreak the phone and install it using the Cydia utility. Nevertheless, if you still have an old iPhone model with the jailbreak, GuestSpy is good option to go for.
Price
Considering its limited compatibility, you can expect a lower price than other high-end apps. GuestSpy has three different plans:
Standard package starts at $20.99 a month

Premium package is charged at $24.99 a month

Gold package starts at $28.99 a month
There is some freedom with the duration of these packages. GuestSpy offers all its packages for four different durations i.e. monthly, quarterly, six months, and a year.
Pros
The remote access to the camera of target phone allows you to see the pictures

The app is free for the first 48 hours.
Cons
It requires physical access to the phone for installing the app.

The target iPhone needs to be jailbroken before the installation.

The installation on iPhone requires Cydia utility and that makes the whole process complicated for the user.
9. Spymaster Pro
Spymaster Pro is a mid-range spying app that offers all the primary spying features like spying on text messages, internet browsing history, and contact details. Unlike any other mid-range spying app, it does not require the phone to be jailbroken to install the app. It offers the ease of primary spying with 15 features under its name. But the app is pricey as compared to the features it offers and has disappointing customer support.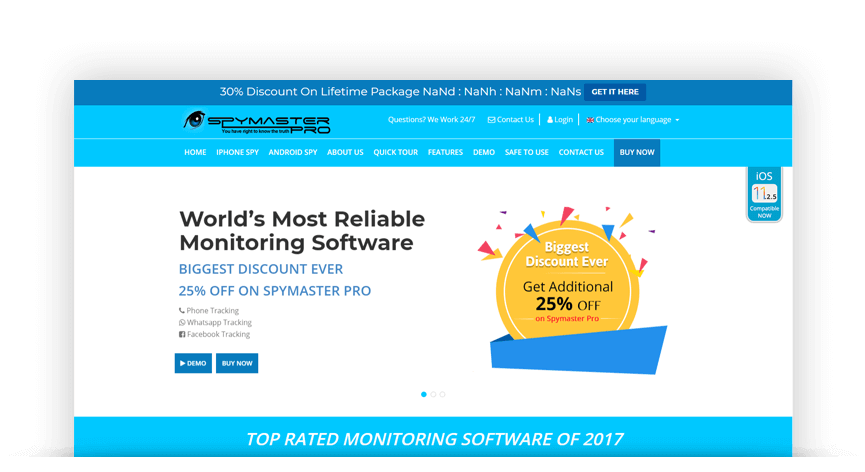 Compatibility
Spymaster Pro is compatible with up to iPhone 7 only. It does not support any later models of the iPhone. Another limitation of this app is that it cannot be installed on any jailbroken device. You would need iCloud credentials of the target phone to monitor it.
Price
Spymaster Pro offers only one package for iPhone with all the features it can offer. The package can be subscribed for monthly, quarterly, and yearly subscriptions. But all these price plans are expensive as only the monthly package is for $57.99 for the basic features.
Pros
It is a spying app useful for basic monitoring.

You do not need to jailbreak your phone.
Cons
It has limited features to offer for its iPhone version.

It is not compatible with the iOS 7 and above, so you cannot use it on any modern iPhone.

The app is expensive given its limited features and compatibility.

Their customer reviews suggest that the customer support is non-existent.
10. iSpyoo
iSpyoo is ranked 10th on our list of top spying apps but it is significant for its particular feature. It offers multiple device functionalities. You can monitor up to 3 devices under one subscription. But the app only operates if the iPhone is jailbroken. Though they guide you about jailbreaking, this still complicates its usability and increases your expense.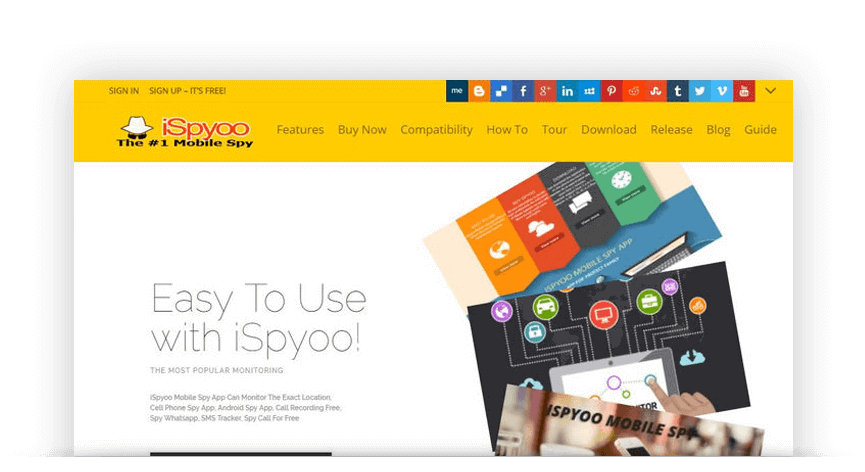 Compatibility
Though the app is compatible with iPhone, nothing has been mentioned about its compatibility with iOS versions. It only mentions that the app can only be used on Jailbroken iPhones. The second limitation is that it needs physical access to install the app on the target iPhone.
Price
iSpyoo offers a variety of packages for its subscriptions. Currently, it is offering three following plans:
Basic: The package starts from $19.99 a month

Premium: It starts from $23.99 a month

Gold: The gold is their ultimate package starting from $25.99 per month
All these packages are available in monthly, quarterly, six months and yearly subscriptions.
Pros
The biggest reason to subscribe to this app is its multiple device support

The app is affordable and the packages are cheap
Cons
It is not compatible with the latest models of iPhone

It needs jailbreak and Cydia to install the app on an iPhone